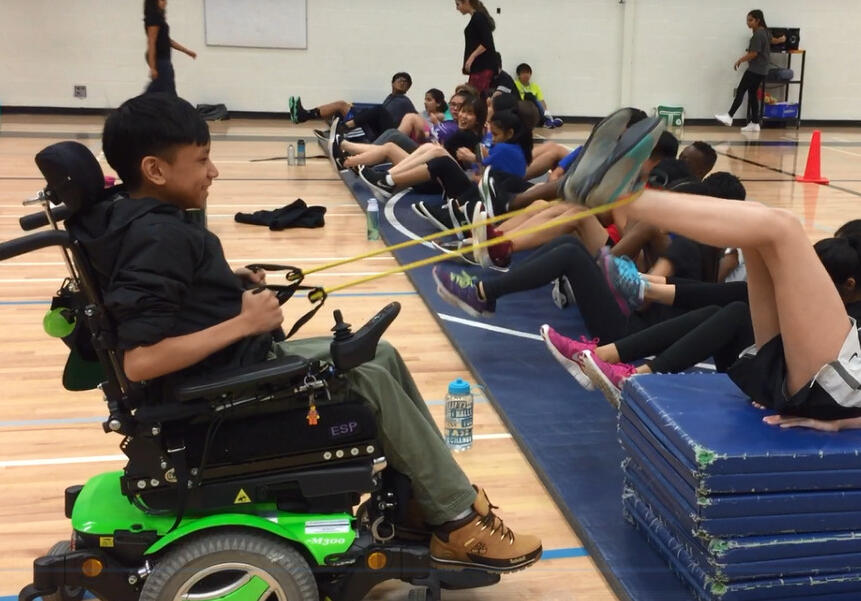 From classroom to classroom, the abilities of students vary. How can you adapt your K-7 physical literacy instruction to meet the needs of all your students? 
On March 2, 2021 from 16:30 to 17:30 PT, join us for "Physical Activity and Physical Literacy for All (Diverse Abilities)," the second presentation in our free webinar series for B.C. educators, to learn how to modify activities for students with diverse physical and intellectual abilities. Get great hands-on tips and ideas to include all your students in activity and the development of physical literacy from physical literacy expert and leader in the diverse ability space,  Karen Natho.
Working for seven years at the Niagara Children's Centre, Karen Natho (BPHE, BSc, MSc) led the creation of the service of Recreational Therapy for children with special needs in Niagara. She worked directly with the four school boards to support access for students with disabilities within the classroom, and  taught physical education classes, running various activities at the Niagara Children's Centre School. Her research and activities in this area have been funded by the Ronald McDonald House Charities, United Way and Canadian Paralympic Committee.
"Karen's experience working with various schools and school boards is a unique opportunity for B.C. educators to learn about accessibility and its implementation directly in their field," said Drew Mitchell, School Physical Activity and Physical Literacy project lead and Senior Director of Physical Literacy with Sport for Life. "She is one of Canada's leading experts on adapted physical activity, and I look forward to hearing her thoughts on how we can make physical activity and physical literacy more accessible in B.C. schools."
Karen is the Founder of the Brock Niagara Penguins, the leading ParaSport program in Niagara. Throughout Karen's career, she has worked tirelessly to make a difference in the lives of children with disabilities, ensuring all children are provided with equal and equitable opportunities. Karen spent six years directing Easter Seals Camp Merrywood into a leading residential camp for children and youth with physical disabilities. She was the regions lead presenter for the Canadian Paralympic Committee – Changing Minds, Changing Lives workshops, and has conducted multiple seminars with educators and practitioners locally and around the world pertaining to topics such as disability sport awareness, adapted physical activity and accessibility program design. 
Find out more about this webinar >>
This webinar will be held virtually on the GoToWebinar platform on Tuesday, March 2, 2021 from 16:30 to 17:30 PT.
A recording will be available on the School Physical Activity and Physical Literacy project website following the event for those who are unable to attend.
https://schoolpapl.ca/wp-content/uploads/2021/02/Physical-Activity-and-Physical-Literacy-for-All-Webinar-e1613062271818.jpg
601
861
Lucy Fox
https://schoolpapl.ca/wp-content/uploads/2020/07/sport-for-life-logo-2020.png
Lucy Fox
2021-02-11 08:52:31
2021-04-19 15:01:37
Upcoming Webinar: Physical Activity and Physical Literacy for All (Diverse Abilities)