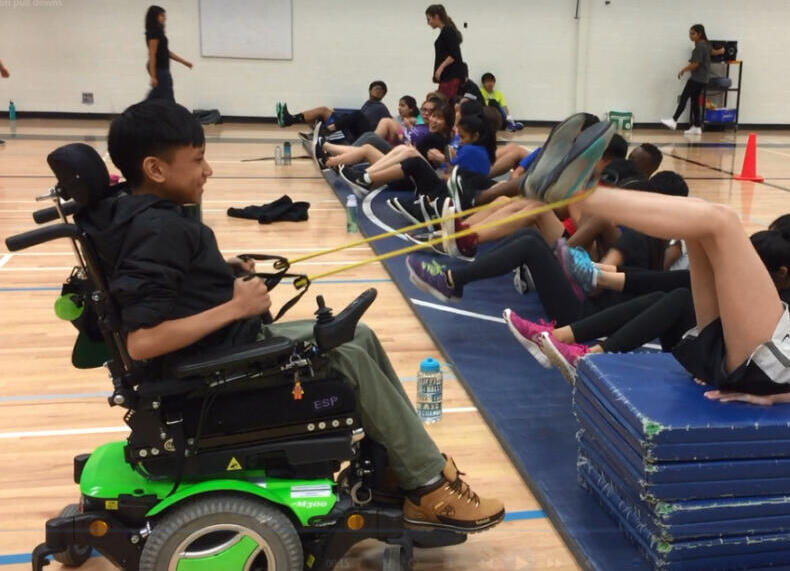 By definition, physical literacy is an inclusive concept that is accessible for all. In the class setting, that inclusivity is reflected in the games and activities we play with our students, that support the diversity of your class. 
Inclusion refers to the intentional, ongoing effort to ensure that diverse individuals fully participate in all aspects of play and learning throughout the school day. In this blog, we are focusing on diverse abilities.
There are things you can do as an educator when considering diverse abilities, to build those safe spaces for your students to learn — particularly within physical activity. Consider the following for your physical activity and physical literacy throughout the school day:
Adaptations are for everyone!

Make adaptations participant-centred by focusing on what students CAN do.

Use person-first language when referring to someone with a disability.

Ask respectful questions.

Don't be afraid to try or ask. If one thing doesn't work, try another!
Here are some modifications you can make to games and activities, to support your students' diverse levels of mobility: 
Use bigger, lighter balls or bats.

Allocate more time for activities.

Reduce the space for students to travel.

Include ramps, steps, or assistants.

Adjust game rules.

Recognize increased energy demands caused by some disabilities.
And a few to consider for those with intellectual/cognitive diversity. Students with intellectual/cognitive conditions will benefit from:
clear and concise rules,

visual demonstrations of the skill with verbal explanations, and with permission, a physical prompt,

few transitions and extra time to make them,

active involvement of the student's education assistant or student buddies.
Interested in learning more about how to adapt games and activities for your students, to support the diverse abilities in your classroom (including, but not limited to, autism, visual impairments and auditory impairments)? Book, or register to attend our open registration date for, the Physical Activity and Physical Literacy for All (Diverse Abilities) workshop! Or, register to view our recorded Physical Activity and Physical Literacy for All (Diverse Abilities) webinar here.
https://schoolpapl.ca/wp-content/uploads/2021/03/photo_1-e1633541613153.jpg
571
790
Lucy Fox
https://schoolpapl.ca/wp-content/uploads/2020/07/sport-for-life-logo-2020.png
Lucy Fox
2021-10-06 09:05:56
2021-10-06 10:33:52
Physical Activity and Physical Literacy for All: Adaptations to Support Your Students' Diverse Abilities