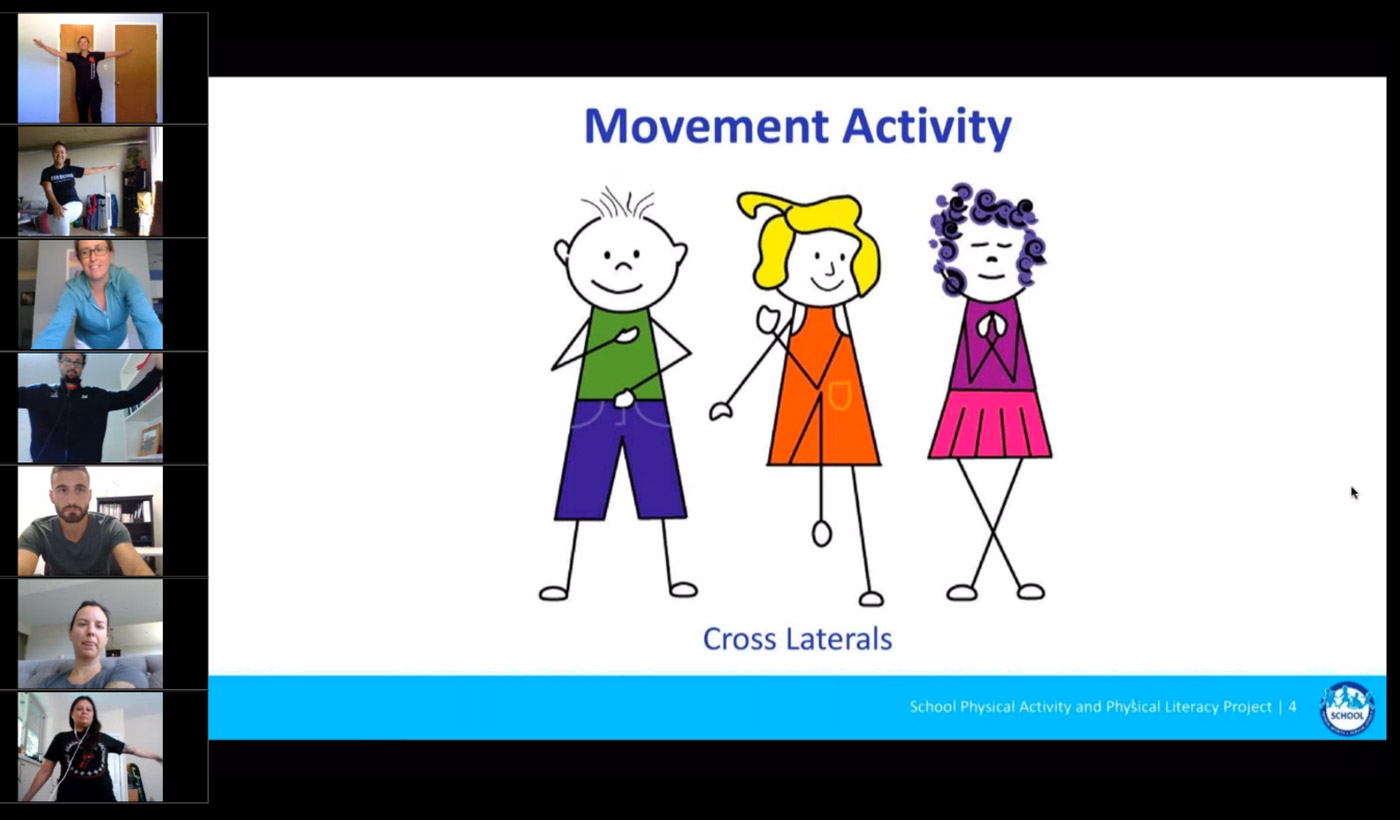 In the rush to get ready for the new school year, some teachers are taking time out of their busy days to learn about physical literacy. Through the School Physical Activity and Physical Literacy Project virtual workshops teachers are getting great online professional development with a live facilitator.
"Teachers can take the workshop in their homes and interact with the facilitator in real time," explains Project Lead, Alex Wilson. "The technology used allows the facilitator to poll participants, break participants into discussion groups, or practice activities together on video."
Virtual workshops are the perfect way to get access to expert facilitators despite the COVID-19 restrictions on in-person professional development. Unlike a pre-recorded video, webinar or e-learning course, virtual workshops let the participants interact with the facilitator.
"We have people with their cameras on doing activities in their homes and having fun," says Master Workshop Facilitator, Jessica Waterman. "The participants like the activities that we are doing and come away knowing that they could lead these with their class. This helps increase the confidence of the teachers to develop physical literacy skills with their students."
The Getting Started in Physical Literacy virtual workshop introduces the concepts of physical literacy, and provides tips and activities that teachers can use right away.
"We wanted to make the workshops practical and not overly theoretical," explains Bruce Deacon, Development Lead for the School Physical Activity and Physical Literacy Project. "The objective is to be relevant, hands-on, and enabling. You don't need to be a PE specialist to deliver a top quality physical activity and physical literacy program to your students."
More virtual workshops are on their way this fall. Making Physical Literacy Work in Your Class introduces fun activities based on the principles of physical literacy, and shows how easy it is to include these in the gym, classroom, or playground. Physical Literacy for All (Special Needs) gives practical advice to adapt activities to meet the needs of students with special needs. This workshop is gets participants rolling up their sleeves to work together to find solutions that work for all their students.
Do virtual workshops sound like a great fit for your professional development plans? Teachers and schools can register for upcoming virtual workshops or request a virtual workshop for their school or district. Questions? Contact spapl@sportforlife.ca.
https://schoolpapl.ca/wp-content/uploads/2020/09/virtual-workshops.jpg
820
1400
caorda
https://schoolpapl.ca/wp-content/uploads/2020/07/sport-for-life-logo-2020.png
caorda
2020-07-15 16:14:17
2021-04-19 15:05:55
Virtual Workshops Now Underway